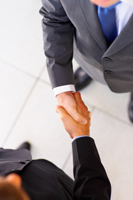 The C.D. Hartnett Company Grocery Distribution Center is our 100,000 square foot facility, located in Weatherford, Texas. We are a full-line grocery distributor, incorporated in Texas since 1904. We carry over 12,000 items including dry groceries, produce, dairy products, frozen foods, candy, tobacco, cigarettes, paper goods, and equipment. Our distribution centers receive bulk shipments from major manufacturers and redistribute these goods, via our own truck fleet, to our customers.
Our customers include chain and independent convenience stores, tobacco shops and regional buying groups. For over 100 years, The C.D. Hartnett Company has placed the customer first with personalized service, high service levels and on-time deliveries.
See how The C.D. Hartnett Company can serve your business.
Dedicated to Customer Service

Industry's best service levels with 98% on time deliveries and 99% in stock service levels.

Convenience store programs including foodservice solutions to manufacturer rack placements that earn money for the retailer. Increase your sales and raise your profit margins using these programs.

Personalized service from every team member with a commitment for customer service.

Competitive pricing with "First to Market" ideas and programs.

Online Solutions and Applications

Online Ordering
Online SRP Maintenance
Online Account Information
Review Invoices
Review Statements
Create Custom Reporting
Print or E-mail Reports
Create Custom Product Guides

Visit the Technology page for more information about registering for our online tools.

Dedicated Team

The C.D. Hartnett Company Team is dedicated to customer service. If you would like to contact one of our experienced account managers, visit our Contact Sales Staff page.

Professional Drivers

Professional drivers in company-owned fleet dedicated to specific routes.

Account Managers

Guiding the independent retailer
Flexible and responsive special request
Communicating openly and honestly
Develop partnerships throughout the supply chain to assure profitable sales growth.
Conducting business with the utmost of integrity.